Healthy Meal Plan for Busy Person: Fuel Your Busy Schedule
Meal Plan for Busy Person
The clock ticks at 6-7 am and you are already rushing for your work or classes. Some of you may even start your day earlier than it. Now, you will get a sigh of relief only at the end of the day while going to bed. In such a fast-paced busy lifestyle, we have your Meal Plan for Busy Person even having a single proper meal and tracking your food intake feels like a task. And how long can someone eat takeouts or fast food? In addition, don't forget that only a healthy body can help you function at your best. To keep your body healthy, food plays one of the major roles.
Think how many times in the past week you have chosen to skip your meal because you didn't have enough time. Or you just had some instant noodles full of Sodium and preservatives. Fine enough discussion about the problem, let's talk about its solution now. Today, we will tell you how you plan your 3 meals just in a few minutes and personalized nutrition plan tips even when your schedule is all decked up for the day.
Befriend slow cookers and instant pots
Slow cookers and instant pots are complete magic for meal planning for busy families. Just put your ingredients in the cooker and set the timer. Now, when you will come back home, a delicious food aroma will be waiting for you.
Simply instant pots allow you to cook faster than a stove or microwave. With single-pot dishes, tracking your food intake also becomes easy as you are eating a single dish.
Stock up on your frozen food
Frozen food and vegetables are your best possible alternative when you can't have fresh ones. So keep frozen vegetables like carrots, peas, potatoes, etc. in stock. These are perfect for cooking low-calorie meals for weight loss as vegetables are low on calories mostly. You can even get them in chopped or peeled form from convenience stores. This reduces the time of prepping them before cooking. You can use them instantly and they also get cooked easily in less time.
Prep for cooking in advance
Choose a day where you can prep for all your meals ahead of the week. For instance, peel the potatoes, chop the onions, marinate your meat, soak your pulses, etc. Remember to store them in air-tight containers or zip-top bags to avoid spoiling.
Now whenever you get back from work or college, you can simply put them in the pan and begin cooking. And your healthy weight loss meals are ready to eat. You will save a lot of time daily which will make your daily cooking ritual much easier.
Design a shopping list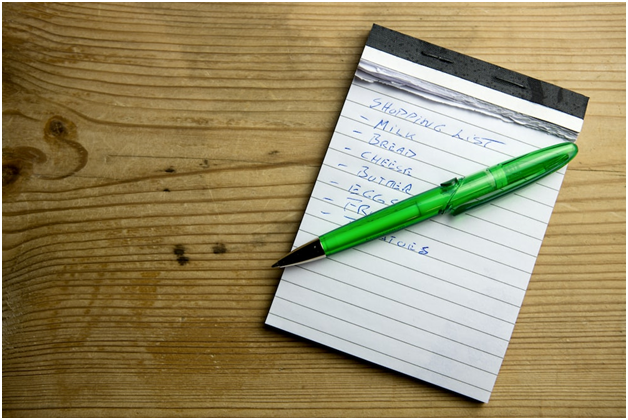 Make a proper list of your grocery requirements. And prefer online shopping instead of physical shopping. It will save long hours of going through the market crowd and finding the right item on the store aisle. With online shopping, you can get everything delivered to your place even just before the cooking. And when you will have all the required ingredients beforehand, then you will feel more motivated to cook. Imagine thinking about making a tasty dish, but you don't have half of the ingredients in your kitchen. So what are the chances that you will go shopping or you will just settle for another pack of instant noodles?
Enrich your spice collection
A busy schedule of meal planning doesn't mean you should compromise on taste. Therefore, always keep an enriched collection of spices in your pantry. Make your simple low-calorie meals for weight loss or healthy weight gain meals delicious by adding some extra spices. Also, make sure to take versatile spices like black pepper, salad spices, and lemon juice which can be used in several different dishes.
3-times a day meal prep suggestions
Let's see an example of a 3-day meal plan for nutritious meal planning online while implementing the above-mentioned tips.
Breakfast meal plan
Choose 3 dishes as per your preference and shuffle their sequence for variety. For instance, you can choose:
boiled eggs with onion and spices for Monday and Thursday (use automatic egg boilers with timer and already chopped prepped onions kept in air-tight containers)
oatmeal bowl with fruits and nuts Tuesday and Friday (soak oats in milk and add some sugar or honey, sprinkle some chopped fruits or nuts to enhance the taste)
Peanut butter spread on brown bread with a banana for Wednesday and Saturday (toast the bread and put some peanut butter, grab a banana from the fridge)
These meals will not take more than 15 minutes to make daily. And you don't need to put hours of thought daily to decide your menu.
Lunch meal plan
Prep for the lunch for the whole week on one day. You can go for;
Single pot vegetable pulao (put soaked rice, spices, and prepped vegetables in the slow cooker with a 10-15 minutes timer)
Vegetable mayo sandwich (simple brown bread toast, put some mayo spread and add prepped vegetables while finishing it off with some sprinkled salt, pepper, and chaat masala)
Khichdi (cook soaked rice and pulses with water for 10-15 minutes, add spices and vegetables to enhance the taste)
Paneer paratha (put some wheat flour and salt in a dough maker, grate the paneer to make the stuffing, and add some spices)
You can shuffle the sequence as per your preference. Keep it flexible by adding pasta or chickpea salads in between.
Dinner meal plan
It can be the hardest meal to cook because by night we all are already exhausted. So keep the dinner's low-calorie meals for weight loss light and simple. For instance, you can go for;
Sprout chat (use prepped sprouts, add vegetables, spices, and lemon juice to enhance the taste)
Frozen lasagna (prepare lasagna bowls before starting the week, just heat them in the microwave anytime and enjoy)
Instant soup (just add some hot water and you are good to go, perfect for extra tiring days)
Fruit salad (chop fruits in small pieces and mix well, add some chaat masala and lemon juice for a refreshing taste)
Conclusion
When you are making your nutritious meal plan online, then also take account of your personality. Whether you are an organized person or want to keep things flexible, be mindful to design a meal plan which fits your needs. Moreover, don't pressure yourself to be perfect. Sometimes you will make mistakes or end up eating something you will regret. But it is all a part of the process. Also, make sure to include cheat meals to make your meal plan more interesting.